This chocolate chip cookies recipe is perfect to do with the kids for a yummy treat as it is super easy and the prep is only 5 mins and baking takes only 10 mins approx.
Difficulty: EASY
Ingredients:
150g salted butter
200g granulated white sugar
2 tsp vanilla extract
1 tsp baking soda
2 tbs milk
1 large egg
225g plain flour
200g chocolate chips

Here are photos of my cookies that I baked with this recipe. If you aren't a fan of milk chocolate chips, why not try white choc chips, dark choc chips or even break up some of your fav chocolate to add a different flavour.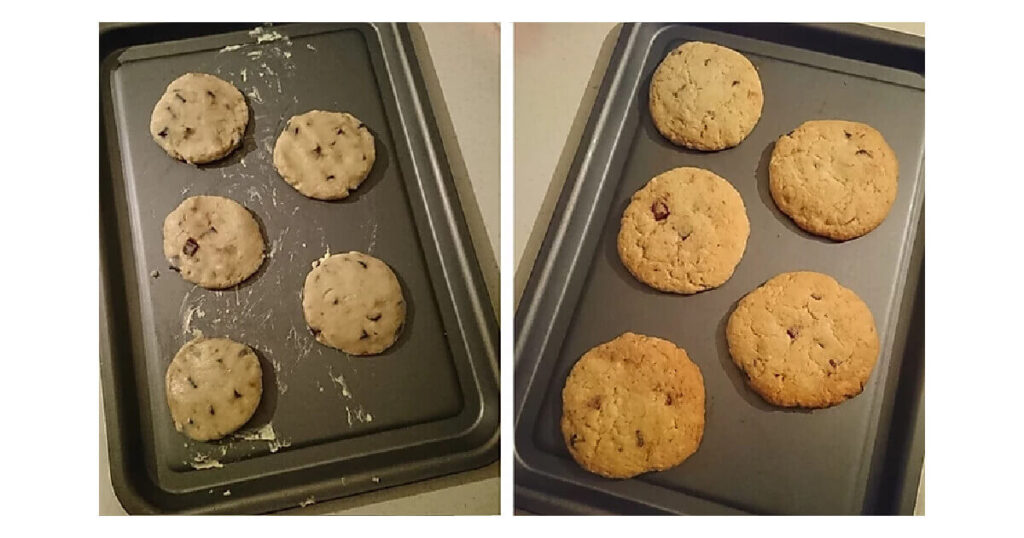 Method:
Preheat the oven to 180C/ fan 160C/ 350F and line a backing tray with non-stick baking paper (or grease with butter if you do not have baking paper)
Put the 150g of softened salted butter and 80g of granulated sugar into a bowl and mix until creamy.
Beat in the 2sp of vanilla extra 1 large egg then shift 225g of plain flour into the bowl and mix all the ingredients together.
Add 200g of chocolate chips and mix well until the chocolate chips are evenly distributed in the mixture.
Now take a small quantity of the cookie dough and roll it into a ball shape with your hands. Then making sure you leave around 5cm space between them flatten them with the palm of your hand on the baking tray. Mixture should make around 24 balls of dough. Put the cookies in the oven and bake for approximately 10 minutes or until they are a light brown colour. Remove from the oven and leave to cool and set and then they are ready to eat.
Thanks for visiting JustFun247!