Flight Attendants Throw A Mid-Air Wedding For A Couple Planning To Elope
There was a time when all weddings were the same. The bride wears a white dress, her father gives her away and everyone eats cake.
Couples around the world are making new traditions and throwing weddings like you wouldn't believe! Whether it's a surprise dance from the wedding party or a special song from the groom, each wedding is special to the couple who threw it.

Dina and Chas were about to celebrate their 10th anniversary of dating each other when they decided it was time to make it official and tie the knot. The plan was to fly from Boston to Seattle and road trip down the coast to San Diego. Once there they would secretly elope. When their JetBlue flight attendants heard about their plans to elope they decided to throw them an impromptu wedding.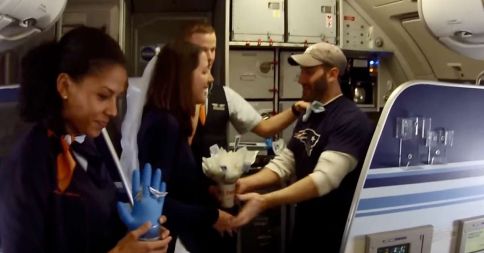 A flight attendant named Joanne stepped in as the flower girl, dropping tissues down the aisle instead of the traditional petals.

The bride carried an assortment of napkins and sugar packets as a makeshift bouquet as well as a garbage bag veil. The groom had a matching bow tie, to make sure he looked the part.
"By the power vested in JetBlue, which is NO POWER AT ALL," another flight attendant named Chris pronounced them travel companions for life.
The "newlyweds" were even treated to a saxophone serenade from a fellow passenger for their first dance!
Although it wasn't quite the wedding they had pictured, it was one they'll never forget!
Source dinazawaski / Via youtube.com
You've just read,  Flight Attendants Throw A Mid-Air Wedding. Why not read Manager Had To Hire A New Employee.